Let's face it, we're not all morning people, some of us can't rattle off the names of our Founding Fathers, calculus isn't everyone's favorite subject, and if presented with the choice of either breaking your arm or speaking in front of a crowd, many of you would have to think twice about your decision. It's crystal clear that we all possess different strengths when it comes to college. Likewise, we all have our weaknesses. In order to be successful in school, we must keep these things in mind when registering for classes. Everyone must try to design a course schedule that caters to their specific needs. Here are some tips for creating a college class schedule that's right for YOU. After all, we don't want you to end up like this guy…
Questions to ask yourself before registering-
Do my desired classes require me to take any prerequisites first? When you start selecting classes, make sure that you are mindful of the prerequisites involved with them. There are going to be some basic classes you'll have to take before you can move on to the more advanced ones. Meaning, you won't be able to register for a class if you have not previously completed the prerequisites that are required for it.
Do I have back-up classes in mind? If you plan on enrolling in five classes, be sure to have a list of eight ready. If you manage to snag a spot in all of your desired classes, that's great! Props to you! But if not, you'll still be able to register for a full course load, and you'll save yourself the headache of searching for new class options while being put under pressure.
Is this class offered other semesters? Hypothetically speaking, say that you're having a hard time deciding between two classes that you want to take. You say to yourself, "Self, should I take that super cool psych class, or should I take that history class that seems pretty nifty?" You're completely torn between the two, and you just can't seem to make up your mind. Later on, you discover that the psych class is only offered in the fall, and that the history class is offered in the fall and in the spring. In this case, you should definitely try to steal a seat in the psychology course because you can always enroll in the history class next semester. Get that psych class while it's still up for grabs!
Will this class cause any scheduling conflicts? Although you shouldn't be scheduling your classes around episodes of Live with Kelly and Michael or The Bachelor, there are certain time constraints that you must keep in mind when registering. When selecting classes, don't enroll in ones that are scheduled during your typical work hours or in the ones that may cause you to miss your campus club meetings. If you are involved in extracurriculars and wish to stay involved, design a schedule that allows for this. Before deciding to take a particular course, double-check when it's being offered to ensure that it won't cause you to miss out on something that's of importance to you. If you plan strategically, you should be able to fit everything into your weekly schedule.
Will I be able to make it to each class on time? Another thing you should do while you're in the process of predetermining your ideal class schedule is take note of where each of these classes is located. Remember you're a gopher, and our campus is HUGE. The U has 3 different banks! OneStop will not allow you to enroll in two classes that take place at the same time; however, it will allow you to enroll in classes that may only be five minutes apart. Since this program does not take transportation times into account, you must plan accordingly for this. You don't want to enroll in a class that you won't be able to make it to on time. Despite superb power walking abilities, nobody would be able to make it from East Bank to St. Paul in just 10 minutes. Thus, you should know how long it will take you to get from East Bank to West Bank, or from St. Paul back to East Bank, and then start designing your schedule based on this info. We suggest that you play it safe and allow for a little extra travel time.
Will the class help fulfill my degree requirements? Do you know what totally stinks? Spending an entire semester working hard to earn a good grade in a class only to find out later that all of your hard work didn't really do you much good. Before registration, check to see that the classes you are enrolling in are either fulfilling general education requirements or that they can count towards your major/ minor degree. This will help ensure that all of your classes are benefiting you in some way and that you are still on track for graduation.
Is this class offered online or on campus? Don't be in such a hurry to register for classes that you're not paying attention to all of the key details. You must remember to look at course delivery methods when you're designing your ideal class schedule. If you hate taking online courses, make sure that the classes you are enrolling in are campus-based classes. You don't want to accidentally sign up for an online course if you already know you're not the type of student who could handle it.
Does the class involve a lab component? If you're planning on taking either science or foreign language classes, see if they require you to participate in a lab section. If you don't want the burden of a weekly lab, then try to find one of these classes that doesn't have a lab component associated with it. Simply continue searching for other class options, and see what you find. These classes are often a little harder to scope out, but they still exist. You just gotta do a little bit of digging!
Will I be challenging myself? It can be tempting to try to register for the easiest classes you can find, but resist the urge to do so! College is a time to challenge yourself and be intellectually stimulated. It's okay to throw an easier class in the mix every now and then, but make sure that the majority of the classes you are taking are ones that require you to really apply yourself. Go ahead, learn something new and expand your horizons.
Am I scheduling too many classes in a day? If you create a day for yourself that consists of having back-to-back classes, you may get overwhelmed. Some students find that this is too much for them to handle. Moreover, you probably shouldn't do this if you have a short attention span. Going to class is seemingly pointless if you're not retaining any of the info. that is being taught to you. This type of agenda also doesn't allow you to get much of a break, and it won't give you the chance to recharge! Additionally, having all of your assignments due at the same time might increase your stress level. So before registration, take a look at your ideal course schedule to see if it's manageable for YOU. Be aware of how you function and design a schedule that fits both your personal wants and needs.
Am I scheduling a good mix of classes? Do schedule a variety of different courses. For example, it would be a great idea to sign up for a lit class, a writing class, and a class that requires you to problem-solve during the same semester. Likewise, you shouldn't enroll in all reading classes or just writing classes. Taking too much of one type of class could prove to be overwhelming for you, so try to avoid doing this.
Things to do before your registration date creeps up on you-
Set up a meeting with your advisor early on. A lot of people will wait until just a few days before registration begins to talk to their advisor about what classes they need to take. But, you're smarter than that! Don't you dare go making this amateur mistake! Make the effort to meet with your advisor before the rush begins. Also, be sure to prepare a list of questions that you have regarding registration for the upcoming semester. At your meeting, you can then discuss these questions and any additional concerns you may have. Moreover, you and your advisor will work together to create a schedule that helps to fulfill your educational requirements. But remember, your advisor won't necessarily decide everything for you. He or she will provide you with a list of classes that you could potentially enroll in next semester, and then you will be responsible for deciding which ones you actually want to take. It's important to schedule this meeting far in advance, so you have more than enough time to make these decisions.
Create what we like to call a "high prio" list. Are you in a position where if you don't get into a certain class, you will no longer be able to graduate on time? If the answer to this question is yes, then that class has to be your top priority when it comes time to register. Try enrolling in this class first and put it above all the others. Meaning, if this class is only offered at the same time that your desired lit class is offered, you'll have to sign up for a different lit class. Or, taking it at 8am would beat graduating a whole semester late, right? RIGHT. Whatever the circumstances may be, put this class first. But, if there is a real concern that you might not be able to snag a spot in that class, talk to your academic advisor to see if there's anything he or she can do to help you.
Know thy limits. Don't over-schedule. You should be realistic about what you can manage. Registering for classes is an art- you must make sure that you are challenging yourself, but at the same time, you don't wanna overdo it!
Schedule a first-year experience class, if it's offered. Shout out to any high school seniors out there, this one's for you! These classes teach students about using campus resources, goal setting, and how to make the most of your college experience. If one of these classes fits into your course schedule, take it!
Things NOT to do- 
Don't postpone core requirements. This will free up your schedule down the road, allowing you to then take classes that solely relate to your intended major. Taking core classes early on could also help you uncover some hidden interests. Who knows, you may discover that you have a passion for politics, or for studying Shakespeare!
Don't schedule 8 ams, if you're not a morning person. If you don't function well in the morning hours, keep this in mind when it comes time to schedule for the upcoming semester. On the other hand, if you are involved in social activities or a job later in the day, you may want to get classes and studying done early on. Be aware of what does and does not work for you, and then adjust your schedule accordingly.
On a final note, remember that change IS possible! Even after you have enrolled in various courses, there's still the possibility for change. If you're unhappy with one of your class times, or if you decide that you'd be better off taking a different course, you might still be able to salvage the situation. You can repeatedly go back and look at the class search to see if any spots have opened up in different classes, or to see if you can take one of your classes at a different time. Say a slot would open up at the "perfect time"; it would be easy for you to revise your schedule to incorporate this quick fix. Thus, you should be persistent when checking for class openings. People are constantly adding and dropping classes before the start of the semester, and you may just get lucky. You might as well give it a try!
Registering for classes shouldn't be stressful if you plan ahead. If you start the decision making process early, you should be A-Okay. So don't delay, act today!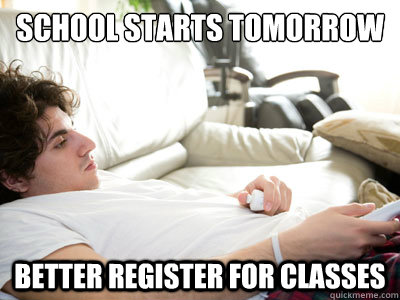 Gophers, be smarter than this! 
Gif/Photo Sources: Guy Going Crazy, Time Running Away, Don't You Dare, School Starts Tomorrow