I was fascinated by how respectful the students in Chiang Dao school are. I remember when we step into the building, where we will be watching the students perform one of the students smiled at me and wai to show respect. They really show respects to their older peers and adults. I was very shocked to learn that the students here in Thailand really have the skills that can help them to live independently without depending on their parents. As for the students in America we were not taught the skills to live by ourselves other than focusing on our education, ourselves and find which career we want to do. I also learn that schools like Chiang Dao has goals of making sure after their students graduated the students are able to find a job and have the skills to live independently. I noticed that in Thailand the main language is Thai but then there are also other tribes that still speaks their native language.
I noticed that the climate changes as we go higher up the mountains. When we were in Bangkok the weather was very hot and the air is very thick. If we are not in a room with cool air conditioning it will be hard to breathe. However, when we went up hill to Pha- Nok- Kok Hmong village the air is more refreshing. Although it may be a little bit humid we can survive because of the refreshing air and breeze. I also noticed that uphill in the mountains it is more green then in Bangkok and where we stay at. I think the reason for this is because it is less populated where the tribes live.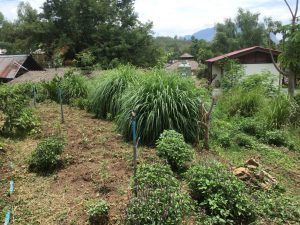 On our first day when we arrived to Thailand we went to a cooking class called Cooking at Home. This is where I learn about how families are in Thailand. I remember that our cooking instructor's husband told us that they own their own business at home. When it is not busy it will just be their family running it but then when they have like tourists like us come, their neighbors will also come to help them as well. This is something that I was very surprised to had learned about. Because in America our neighbors will not help us like how the neighbors will help this family.