Arash Mahnan, Instructional Technology Fellow – KIN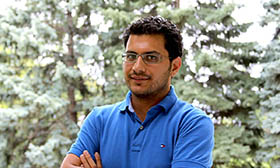 If you weren't doing what you do today, what other job would you have?
Actor, Musician, Photographer, Project Manger
What are 3 things we probably don't know about you?
I have practiced Judo since I was 7 years old
I was radio show host back in my home country
I was the youngest referee in World Kurash Championships
What's your mission?
Learn everyday and help as much as I can
Where can you be found when you are not at work?
Sports Centers, Human Sensorimotor Control Lab, Home
If you could have one superpower what would it be? Why?
Time extending power – I always have a huge to do list but lack the time for doing them
Bio
Arash Mahnan is a PhD student in kinesiology with an emphasis of biomechanics and movement neuroscience. His background is engineering. Arash has a BSc in mechanical engineering and MSc in biomedical engineering from his home country, Iran.
In his position as IT Fellow, he supports instructors as they integrate learning technologies into their courses. Arash helps instructors by providing guidance on the selection, implementation, and management of the suite of learning technologies supported by the University (e.g., Moodle). He also provides technical support, research, and evaluates new technologies.