Belle Khuu, Instructional Technology Fellow – ICD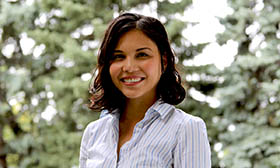 What do you love most about the work that you do?
I really like getting to know instructors and hearing about their experiences using learning technologies in the classroom.
What are your top three passions?
Be attentive to others, learning new ideas, and working toward advancing social justice
If you could spend a week anywhere in the world, where would it be?
Visiting Vietnam, where I was born
What are 3 things we probably don't know about you?
I am a clumsy person
I wear my shirts backward and sometime inside out way more time than I care to admit
I like to eat condiments, especially mustard by itself
What's the most unusual thing in your desk drawer or office?
A bag of hot sauce packages
What are the top three things you believe about people?
We are all capable of practicing the goodness within us. We are lifelong learners. Most of us want to be back in our mother's womb.
Bio
Belle Khuu received her BS in sociology, BA in philosophy and psychology with a minor in Asian American studies at the University of Minnesota-Twin Cities in 2003. After graduation, she worked as clinical research coordinator for the Department of Psychiatry Schizophrenia Program. Belle completed her MSW in mental health practice with a minor in prevention science. Since her master program, she has been an instructional technology fellow at the School of Social Work then Institute of Child Development. Belle is currently a doctoral student in the School of Social Work. She is working on her dissertation examining the phenomenon of historical trauma among Southeast Asian Americans. Belle's overall research interest is the health and mental health promotion initiatives among Asian Americans. Her other research interests include: acculturation and acculturative stress among ethnic minorities, impact of ethnic identity on mental health outcomes, and social determinants of health disparities including health utilization behaviors.