How do I add a person to my Moodle site if they are not automatically enrolled?
There may be many reasons why you may need to add a person to your Moodle site. In some cases, classes that have a student who is deaf may need to add sign language interpreters to help translate audio clips on a Moodle site. In another class, a student may have an incomplete in one semester and needs access to a new semester's Moodle site to complete necessary work; or, a community co-instructor or TA may need to access a Moodle site in order to grade an assignment. Knowing how to add a person to your Moodle site becomes a critical skill to have.
When adding a person to your Moodle site you must first find out whether that person is within the U of M system or not. This means you have to see whether the person has an active U of MN ID. Interpreters employed by the University, TA's and even existing students that are not enrolled in the class can be easily added to the Moodle site using their U of M ID.
It is important to note that some individuals may have a U of M ID that is not active. This happens when the individual was previously a student at the U of M or was issued a U of M ID several years ago and hasn't used it. In these cases, the U of M ID can be reactivated by having the individual call the Office of Information Technology (OIT) at 612-301-4357.
If the individual you would like to add to your Moodle site does not have an active U of M ID; they can still gain access to your Moodle site by requesting a guest account. Step by step instructions for acquiring a guest account can be found here: https://it.umn.edu/Moodle-28-30-create-guest-account
With either an U of M ID or guest account email; you can easily add an individual to your Moodle site by following these steps:
STEP 1: Log into Moodle and navigate to the Moodle course page in which you would like to add the user.
STEP 2: On the left hand side, within the Administration block, you will see an icon called "USER", select this item to reveal a list of options.
STEP 3: Select "ENROLLED USERS" to reveal the current enrolled users in the course.

STEP 4: Once in the Enrolled Users page, select "ENROLL USER" to add the person to your Moodle course.
STEP 5: A pop out box will appear in your browser which will allow you to add the person. In this pop out box, designate the "role" of the user and then search for them using either their name, email, or U of M ID.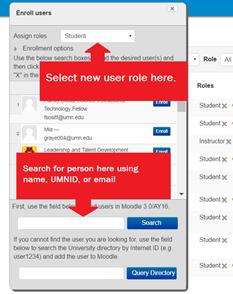 Assigning the right role to the person you are adding is very important as "each role has a given set of permissions that grant access to various aspects of the site." Roles that can be designated are:
Instructor
Designer
Teaching Assistant
Non-editing Instructor
Student
Participant
Visitor
For a detailed description of each role, please visit: https://it.umn.edu/moodle-28-30-role-types
Please note: The Enroll Users pop out box has two areas in which you can search for individuals. The top search bar allows you to find people with U of M IDs that are included in the Moodle database. The search bar below with the button "Query Directory" will allow you to find people with U of M IDs that are within the U of M system but are not in the Moodle database. If a search fails in the top search you can try searching the directory using the bottom search. If both fail, first ensure that the individual has an active U of M ID; then you should contact moodle@umn.edu and ask that the U of M ID be added to the Moodle database.
STEP 6: Once you have found the person you want to add and have selected the appropriate role; simply select "enroll" to add them to you Moodle site.

The added person may now access content on your Moodle site. Please note that persons enrolled as "student" using this method will not have access to U of M Library E-reserve content on your Moodle site. Only automatically enrolled students and the instructor will have access to this content.