Jinseok Oh, Instructional Technology Fellow – KIN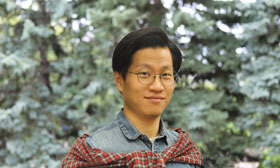 What did you want to do or be when you were eight years old?
A baseball player
If you could spend a week anywhere in the world, where would it be?
Siberia in winter
What 5 words or phrases best describe you?
Cautious, dedicated, insecure, old-fashioned, and tolerant
What one event in your childhood had the greatest effect on your life?
Visiting an exhibition of Auguste Rodin's works – traveled four hours to be there
What's your motto?
Fail faster