Melissa Falldin, Instructional Designer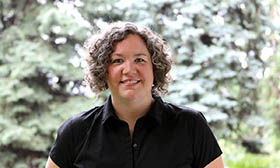 'If you weren't doing what you do today, what other job would you have?
National Park Ranger
What are 3 things we probably don't know about you?
I was a Navy Sea Cadet, Go Navy!
I starting to swim competitively at age 7 and coached both swimming and synchronized swimming throughout college.  I swam 2.5 miles in Lake Superior in the 'Point to La Pointe' event.
My second language in college was Dakota
Bio
Melissa has been involved in education for over twenty years with work varying from public and charter K-12 settings, community education, corporate training environments, private consulting and higher education. She enjoys teaching, developing curricula and collaborating with instructors to improve their educational content and focus on student engagement.  In particular, Melissa's work focuses on education technologies.
Melissa is an alum of the University of Minnesota and received her M.S. in Instructional Design and Technology from the University of North Dakota.
Melissa has received the C. Eugene Allen Award for Innovative International Initiatives (2015) and the Minnesota eLearning Summit Excellence Awards (2016) for her work on the Collaborative Online International Learning (COIL) Pilot.