Nancy Lo, Instructional Technology Fellow – SSW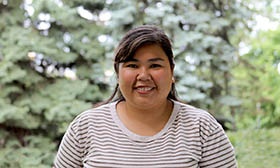 What did you want to do or be when you were eight years old?
When I was eight, I used to watch these old Kung Fu movies with my father and I admired the Kung Fu masters so much that I was determined to be a Shaolin Monk so I could get good at Kung Fu too. I was really heartbroken when I found out that women were not allowed to be monks, but even into later life I always dreamed about being a monk.
What are 3 things we probably don't know about you?
I once swam with sharks

I do not know how to swim

I have lived through a category one hurricane
What are the top three things you believe about people?
No person in this world is bad. They may do bad things or make bad choices but no one is inherently bad

People mean different things to different people. The way I view someone may not be the way others view them

Everyone is worthwhile and deserves love. No exceptions
What 5 words or phrases best describe you?
Stubborn, Cunning, Shy, Loyal, Compassionate
What one event in your childhood had the greatest effect on your life?
When I was around 11, a girl in my elementary school was killed in her home due to a robbery. Even though I didn't know her, I went to her funeral because she was the only other Asian person in my school. At the time there was a lot of violence against people with Asian heritage and I remember that her death was the final straw for most of the entire Asian community. As a response, the Asian community in the entire country shut down and it was such a powerful moment. I realized how powerful people can be when they are united and even now I believe in the power of community. This is why in my work, I try my hardest to take a community approach because hardships like violence don't just affect one person or family, they affect entire communities.
Do you have a pet? If so, tell us about it.
None currently but I do have a a goofy and lovable dog in my home country. He is the smartest puppy I have ever had and as a result a bit of a tyrant who loves jumping our fence and going on adventures.
Bio
Nancy Lo is a third year doctoral student currently striving for a PHD in Family Social Science at the University of Minnesota. Nancy currently holds a Masters degree in counseling with an emphasis in family and marriage therapy. She has worked in a multitude of different settings including the child protection sector and with adults who have a severe mental illness. Most recently she worked as a program coordinator for violence and disaster prevention program through the Belize Red Cross. While in Belize she was certified as a National First Responder and a master trainer in psychosocial support. Her experiences both professionally and personally have given her a strong passion for higher education and research with an interest focused on ethnic identity development and risk behavior prevention within adolescent youth from multicultural and immigrant families. Through this work Nancy hopes to support humanitarian initiatives by helping to develop, implement and evaluate different family based programs and initiatives in a multitude of contexts.