Nicolaas VanMeerten, Instructional Designer – EPSY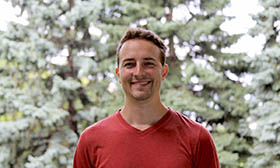 What did you want to do or be when you were eight years old?
I wanted to be an astronaut, or a paleontologist. I've always been fascinated by space and dinosaurs!
What are your top three passions?
Games, Statistics, Learning
What is your favorite beverage?
Coffee and Red Wine
Do you have a pet? If so, tell us about it.
I have a dog named Ikaros, who looks like a grey/white Ewok
What TV show are you binge-watching now?
I am currently watching Battlestar Galactica!
Bio
Nicolas VanMeerten is a third year Ph.D. student in the Educational Psychology program at the University of Minnesota, Twin Cities. Nic is a data scientist by trade and his research focuses on studying how people learn in complex multiplayer video game environments. He is also the Co-founder and Senior Programs Director at GLITCH.