Peter Zimmerman, Instructional Designer – OLPD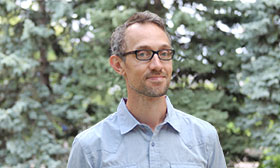 Do you have a pet?
I've got a great dog. He's a black and brindle Florida dog. His hobbies include dragging me along trails and being really excited to meet new people.
Who is your hero?
I've got many heroes for different reasons. Eric Dolphy, the jazz musician, for his astounding ability and tenacity. Marc Maron for reinventing himself as an interviewer late in his career and for making podcasts more popular. Salman Kahn for his easy to understand teaching approach. Instructional designers could learn a lot from him. Lastly, Kelly Sue DeConnick for making amazingly thought provoking comic books.
If we asked faculty that you have worked with about you, what would they say?
They would probably say that I'm down to earth and conversational. They'd probably also say  that I go for the solution that works best for the course, not the solution that is needlessly flashy.
Bio
Before working at the University of Minnesota, Peter worked at the University of Florida in the College of Education. He was an instructional designer in the Distance Learning office. Peter helped put a Leadership Master's program completely online which was beneficial to the teachers seeking to become principals in Florida. They could take online courses and still maintain their busy teaching schedules. His academic career consisted of getting his bachelor's in Magazine Journalism from UF and then he went on to earn a Master of Arts in Education, specializing in Educational Technology. Peter has been working with instructors throughout his career to make their courses more student-centered so that the learning outcomes they set out to achieve become manageable and achievable.