Ryan Elder, Instructional Designer – FSoS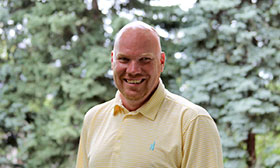 What do you love most about the work that you do?
I enjoy working with instructors and hearing the passion they have for the courses they teach
If you could spend a week anywhere in the world, where would it be?
I would love to spend a week on the coastline of the Atlantic Ocean in the Northeast
Where can you be found when you are not at work?
When I am away from work, I can be found on the baseball field, basketball gyms, or swimming pool, supporting my children
What item from your resume would come as a surprise to most readers?
One of my favorite stories to tell about my K-12 teaching experience was that I once taught along an individual that proclaimed that he was once the poorest paid teacher in the nation. Just ask, I would love to share this story with you.
Bio
Ryan Elder is:
Extremely creative and collaborative technology educator with a successful track record in providing consultative expertise to educational personnel and institutions, professors, instructors, students, community organizations and administrative staff in learning environments.

A former teacher with a strong background in a pedagogical application, consultative development of classroom instructional materials, online course delivery, and best practice use of graphics, web design, and multimedia applications within training resources.