Valerie Barbaro, Instructional Technology Fellow – C & I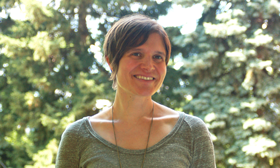 What did you want to do or be when you were eight years old?
I wanted to be a writer. I also wanted to create homes for all the outdoor animals, neglecting the idea that they already had homes they'd built, and built much better than 8-year-old me had.
What do you love most about the work that you do?
I love helping people. It's a great benefit that I am continually learning new technologies as a part of that support.
What are your top three passions?
Staying active, helping people, and learning cool new things about education (especially neuroeducation). I am also a grammar nerd and like to teach people little-known grammar tidbits such as the difference between "toward" and "towards."
If you weren't doing what you do today, what other job would you have?
I always thought it'd be fun to make crazy sculptural cakes.
If you could spend a week anywhere in the world, where would it be?
Via ferrata in Switzerland.
What are 3 things we probably don't know about you?
I rock climb and have been on top of Devil's Tower (no alien sightings).
A sculpture I designed still stands in my high school's courtyard.
I don't like white condiments.
Bio
C&I IT Fellow Valerie Barbaro holds an MFA in Creative Writing and is a current PhD student in the Learning Technologies program. She has over 15 years of higher ed teaching experience and specialized in learning support services for 10 years prior to starting her PhD. Her research is fueled by her passion to improve online education for college students; in particular, she is interested in student social engagement and the Community of Inquiry model as well as applications of neuroeducation and narrative in course design. She has presented at the national CRLA and NCLCA conferences on integrating Nonviolent Communication practices into work with students.