Yeng Chang, Teacher Education Technology Integration Coordinator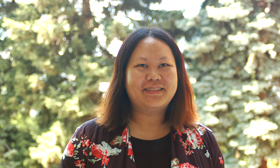 If you weren't doing what you do today, what other job would you have?
I don't know if this job exists, but I would love to be a mystery traveler… very similar to a mystery shopper.
If you could spend a week anywhere in the world, where would it be?
I would love to explore Jeju Island.
What are 3 things we probably don't know about you?
I was born in a refugee camp.
I had a student teaching placement in Thailand.
As of today, I have been an enrolled as a student in the University of Minnesota system for a combined 11 years.
Bio
Yeng received her BA and 5-12 social studies teaching license from the University of Minnesota Duluth in 2005 and spent the next 12 years teaching at the secondary level. In her last two years of teaching, she also served as an instructional technology coach. Yeng received her MEd in Social Studies Education in 2009 and is currently pursuing her PhD in Learning Technologies, both from the University of Minnesota Twin Cities. Her research interests includes technology integration professional development and the intersection of growth mindsets in these mediums. At the moment, her professional and academic interests are intersecting as she serves in the role of Teacher Education Technology Integration Coordinator as part of the DEI team.