CEHD graduate students do some pretty amazing things. However, if you're just starting out, or even if you've been around for a few years, it can be a challenge to identify paths to success while you're busy juggling deadlines and meeting program milestones. "How'd you get that cool thing?" is a series we're launching this year to help you find your way as you pursue those special achievements you're most proud of.
This time around, we feature Damir Utržan, a newly-minted graduate from Family Social Science's doctoral program. Damir studies the impact of displacement on parent-child relationships. In his dissertation, Damir interviewed Syrian refugees about their resettlement experience. In this interview, Damir tells us how his topic and engaging writing attracted the attention of a publisher interested in bringing Damir's research to a wider audience.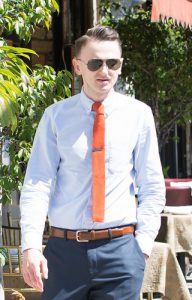 CEHD: Tell us about your possible publication. What does it mean for you?
Damir: These questions are related. Andrea Northwood, who also graduated from the University of Minnesota with a doctorate in child and clinical psychology, is director of client services at the Center for Victims of Torture. We built a relationship over several years during my doctoral internship at the Center, which was the foundation for a journal article we published this year on working with refugees in the clinical setting. Broken Promises and Lost Dreams: Navigating Asylum in the United States ended up being featured by the Journal of Marital and Family Therapy, the premier periodical in the field of couple/marriage and family therapy. It also caught the attention of an acquisitions editor at a major university press.
This editor reached out to me interested in commissioning a book on working with refugees in the clinical setting. The press she represents, which I am unfortunately unable to name, tends to publish books on the intersection of human rights, social science, and policy. The first idea we explored was taking my dissertation – in which I evaluated the United States refugee resettlement infrastructure and interviewed Syrian refugees about their resettlement experiences – and format it into a book for graduate students. This proved to be challenging as I was yet to defend the dissertation (i.e., I could not focus on writing or editing a book while at the same time preparing for the defense). After consulting with Andrea, the second idea we explored was editing a volume on working with refugees in the United States from the perspective of different professionals or disciplines (e.g., clinicians, social workers, lawyers, etc.). The primary motivation for an edited volume was that working with refugees is a collaborative effort (i.e., you cannot work on their depression, for example, without addressing issues related to their employment or legal status). Andrea and I began drafting an outline and inviting colleagues.
Unfortunately, our focus shifted from the book to working with clients after the Trump Administration realized the first of their two executive orders. We were disappointed but hope to return to the project soon. I may also re-evaluate the possibility of editing my dissertation, which I have since defended successfully, into a book for graduate students. I failed to mention that the press was interested in our journal article, which extends to both books, because we drew on personal and professional experiences. I am not only a refugee who fled from the Bosnian War but also a research scientist and licensed C/MFT. Therefore, my edited dissertation would draw on these experiences to help graduate students studying human rights gain a deeper understanding of the refugee experience.
CEHD: Who helped you along the way? What resources did you find useful? How did you prepare?
Damir: "Omwana ni wa bhone," a proverb from the Jita people of northern Tanzania, means that a child's upbringing belongs to the community regardless of his or her biological parents. To that end, I had many people who helped me along the way. Andrea's mentorship during my doctoral internship at the Center was instrumental. I learned the science of working with refugees during my pre-doctoral internship at the National Immigrant Justice Center (NIJC) while pursuing a master's degree at Northwestern University. But I did not learn the art, or subjectivity unique to working with refugees, until my doctoral internship.
Elizabeth Wieling, who was my academic advisor at the University of Minnesota, pushed me beyond what I thought was possible. The late Alan Gurman, a pioneer in the fields of psychiatry and C/MFT, convinced me to attend the University of Minnesota. Because I can be difficult to put up with sometimes, I would not be where I am without the support of my family and friends. There are also countless others, irrespective of whether their contribution was big or small, who helped me along the way. I cannot over-emphasize the importance of networking and learning from others. I may be a refugee, and now a research scientist, but my experiences are nonetheless limited. I have worked with refugees in the clinical setting but I have never legally represented anyone in the court of law. I also never helped refugees find employment or secure housing. This is the motivation for an edited volume on working with refugees in the clinical setting – other people with different experiences and perspectives.
CEHD: How will this help you further your academics or your career?
Damir: Since defending my dissertation, I have accepted a post-doctoral fellowship in the Division of General Pediatrics and General Health, Department of Pediatrics, at the University of Minnesota Medical School. I plan to expand my scholarship on working with refugees in the clinical setting by focusing on the devastating effects of detaining asylum-seekers, and in doing so, separating parents from their children. I am also in the process of finishing several small projects; including a book chapter on how I wrote my dissertation for SAGE Publications and a consumer pamphlet on immigrants and refugees for the American Association for Marriage and Family Therapy.
CEHD: Any pithy words of wisdom you would like to share with other students?
Damir: Another big request. I know this advice has become a cliché, but…follow your dreams and never give up. You have to do something you love and are passionate about because it is going to be challenging. You are going to have mornings where you do not want to get out of bed. You are going to have days during which you question the choice that got you to this point. And, you are going to have nights on the edge of giving up years of sacrifice pursuing your dreams. But, you should go after those dreams no matter how unthinkable they may be to you or others.
If you would like to be featured in a future "How'd you get that cool thing" column, please contact us at CEHDgrad@umn.edu. We would love to hear from you!