We like to encourage people considering graduate school to reach out to the departments they're interested in joining.  We think it helps prospective students to assess how good of a fit the program will be for them and if the program will be able to meet their needs. Making contact first also helps applicants to put together more competitive applications.
But, how do you reach out, and what is that experience really like? We interviewed Lindsey Jendraszak, Associate Director of Curriculum and Student Services for the Institute of Child Development to find out how she typically works with prospective students.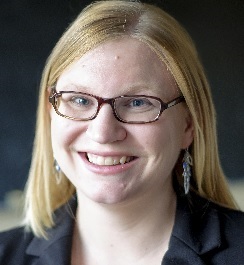 CEHD: Hi Lindsey. Can you tell us a little bit about your advising philosophy?
Lindsey: I view my role as a crucial one in assisting with a student's development outside of the classroom. We know that learning content and gaining academic knowledge is a major part of education. However, students are also learning valuable personal and interpersonal skills alongside their academic work.
I am happy to serve as both a challenger and a supporter to my students in learning to better advocate for themselves and others during their time in school. Whether this is guiding them to resources they need to be successful inside and outside of the classroom, or having difficult conversations with them about bigger picture issues, I view my role as that of a confidant and supporter of our students.
CEHD: What can prospective students expect when they talk with you? What's the process like?
Lindsey: I am always happy to serve as the first point of contact for any student interested in graduate programs at the Institute of Child Development. I'll have a conversation with the prospective student about their background and their career aspirations and then point them to degree programs that may be of interest. If those programs are within our department, I'm also happy to continue the conversation. I will suggest faculty they could connect with and talk about what makes a competitive applicant to our program.
CEHD: What can prospective students do to prepare to talk with you?
Lindsey: I would suggest students do a bit of basic research on our website first, to familiarize themselves with our offerings and program deadlines. I'd also encourage them to think about their reasons for pursuing graduate education, what type of career they want for themselves, and how long they are willing to commit to a graduate school program to get that career.
CEHD: Is this a high-stakes meeting? Will it ruin my chances if I make a bad first impression?
Lindsey: Not at all! I promise there are no stupid questions when it comes to graduate admissions. Many students might be the first in their family to pursue a master's degree or a Ph.D., so I get that sometimes you might not even know the questions to ask. I'm here to help and to point you in the right direction, not to judge.
CEHD: What if the prospective student is still in the exploratory phase?
Lindsey: As long as you're exploring a career somewhat connected to children and/or psychology, I'm happy to speak with you. Our programs are fairly specific, though, so I do ask that you have an interest in our area in particular, and not just in psychology in general, as I can only speak to the programs I represent.
CEHD: Do you have any books/podcasts/etc. you'd recommend to prospective grad students to figure things out?
Lindsey: Oh, good question! For Ph.D. students, I think "Inside Graduate Admissions" by Julie Posselt is a really eye-opening look into the graduate admissions process at top-tier universities. It's not so much about deciding whether or not to go to graduate school. But, it focuses more on how admissions committees work.
Looking for what to read next?  If you're applying to graduate school, check out "Keeping your graduate school applications on track" or "Tackling the graduate application personal statement."