Sometimes we have to travel across the world to realize that everything we need is where we've always been – home.
My experience feels similar to "The Alchemist." It's a story about a boy who follows his legend because of a dream he had about going to the pyramids and finding a pot of gold. As he follows his legend, there are people that he meets along the way that help him, and others that negate his journey. He also meets his soul mate and doesn't want to continue his legend because of infatuation. However, he eventually continues his legend in fear of regret, and digs the pyramid to only find out that the pot of gold he had dreamed of was actually hidden underneath his house.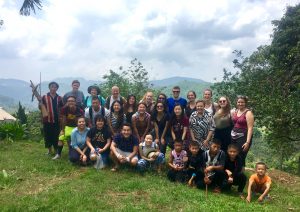 I visited "Pha Nok Kok Village" with my classmates. It's a Christian Hmong Village in Chaingmai and it's been established there for about 50 years. We rode go carts, learned how to shoot bow and arrows, learned how hemp was made, and saw their beautiful acres of farmland.
Something that stood out to me throughout this trip was that many Hmong-Thai youth struggled very much when speaking Hmong. The Hmong students who I met at Chiang Dao Boarding School had a difficult time communicating to me, and some of the younger Hmong villagers that I met today also had a difficult time speaking Hmong to me too. I came to Thailand expecting to greet and converse in Hmong with Hmong brothers and sisters; I had the misconception that my people who lived here were the keepers of my culture. However, I now realize that we are all keepers to our culture. All around the world, Hmong people are assimilating, losing culture, and having conversations about how to preserve ethnic identity. At home in MN, we are no different than the Hmong-Thai. We struggle being Hmong, but we are also experts to our culture and people. I am where I need to be. We don't have to travel thousands of miles to understand our history. There is not one place where everyone is perfectly Hmong. We are living it with the trauma and happiness of our parents and grandparents. We are living it currently with our education and profession.
My idea on being a Hmong person has definitely felt more pusposful since being on this trip.