Education System in Thailand
Mena Lee
Ending spring semester and starting May session studying abroad to Thailand I previously took a class comparing and studying the different education systems around the world in countries such as China, Japan, South Korea, Finland, and the United States. This spark of interest and previous knowledge led to my decision to focus on the education and youth in Thailand as I reflect on my experiences in the United States compared to observing the classrooms and schools in Thailand. In order for me to gain a better understanding of how the Thai Education system actually works, I first started researching the education system.
Thailand is divided into 76 changwats or provinces. The Education system is run by the National Education Act of 1999 and the 15-year National Education Plan (2002-2016). The National Education Act allows free public education to all Thai students for 12 years and also two years of free preschool. The main language of instruction is in Thai, although some universities now offer international programs taught in English. The academic year starts in May to March in the school sector and June to March in the tertiary sector with two semesters each year. Each school year has to have at least 200 school days required for the academic year compared to the United States averaging at 180.
Education in Thailand is categorized into three levels, national, regional and local. The national level is overseen by the Office of Higher Education Commission. Whereas the regional level which oversees the 76 provinces are grouped into 12 education regions around Thailand, not including Bangkok. Lastly, the local level of education, each municipality is responsible for primary education within its own conditions and resources.
Thailand school systems run by a 6-3-3 structure, 6 years of primary education, three years of lower secondary education and three years of upper secondary education. In grades 1-6, it is called Prathom, 7-12 are Matthayom 1 – 6. National testing is conducted in grades 3, 6 and 9 with subjects ranging from Thai, science, English, math, and social sciences.
Knowing these facts now, I now have a better understanding of how the education system in Thailand works. Coming to Thailand with a blank slate, I learned about the factors of education based off of child trafficking and privilege. There are many hill tribes in Thailand and each of these tribes have different languages that they speak. In order for Thai schools to meet the needs and educational standards, these hill tribe students had to learn the Thai language starting in preschool all throughout their educational careers. In the means of privilege of going to school in Thailand, some families face sacrifices to educate their children instead of having them stay home and work on house chores or farming. Privilege is also being able to afford a reliable means of transportation for the students in small villages to attend schools 30 to 40 minutes away minimally. Unlike the United States where school busses and close school districts exist, Thailand seems to struggle in transportation and providing standard education facilities for students across the country. As I continue to reflect on the meaning of education and privilege in Thailand, I am saddened that some students aren't privileged enough to even attend school due to transportation and money. This trip has definitely opened my perspective about how the U.S compares with other developing countries and how important education is for our future youth generations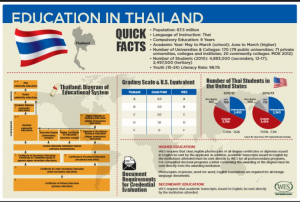 Resources: http://wenr.wes.org/2014/03/education-in-thailand/
Students in Thailand and Students in the United States
Mai Mee Lee
Before coming to study abroad in Thailand I was told by my professors that we will visit schools like Susksasong Chiang Dao School to learn about how students are like in Thailand compare to students in the United States. I was expecting to see students do similar things like what we do in America, but students in Thailand are taught skills that will help them to live independently after they graduated from high school.
During my visit to Susksasong Chiang Dao school I noticed that the students are taught the skills to farm, cook, do housework, and care for each other. The food that the students grow from their hard work they can sell to help support themselves while they still attend school. However, I noticed that schools in the United States do not have their students learn how to do housework or learn how to grow their own food to help support them.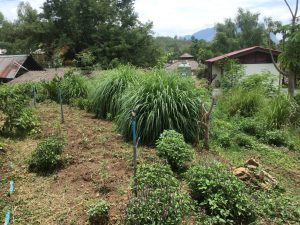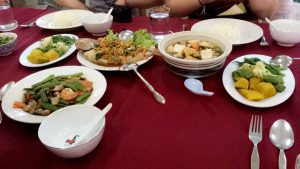 I was surprised to learned that students who live in dormitories at school are expected to wash their own dishes and fix their own bed. Unlike in the United States we are not expected to do as much as the students in Thailand. The most the students will do is study and go to school to find what they are passion about to help them find a career. According to the director from Chiang Dao school, he spoke about how Chiang Dao school does not have a high percentage of their students going to a university after high school graduation.
It is because the school would rather their students have the skills like farming, cooking, and doing housework so they can find a job and live independent after getting the education they need. The students focus more on how to live a real life rather than just study and go to school. I really like the system that Thai schools have for their students which is to learn the way of living is a very smart way that we should learn in the United States as well. In the United States we have more students who attend college after they graduated from high school compare to students in Thailand. It is because if students don't go to college then it will be difficult to find a job. But although most of us do go to college after we graduated from high school, we still don't get a well pay job. After I had see the students at Chiang Dao school, I have learned a lot about what Thai students do compare to what students in the United States would do.
Education and Youth: Recruitment at Boarding Schools
By: Shengyeng Lee
Imagine going to a school where you learn for a day and come back home in the evening. Now imagine going to school for the year or more and being far away from home. Which school would you rather go to considering the distance for the education? As for myself I would rather go to a school where I feel like it's going to make a difference in my life. For the past three years I have been studying away from home. As a student from Minnesota State University, Mankato studying far away was a challenge. With every challenge I was able to endure my own sacrifices and focus on my education. I can only imagine the challenges each student from the Suksasongkroh Chiangdao School experience being away from their family. The visit to the School in Thailand reminded me of my own experience back in the United States. My experience at the Suksasongkroh Chiangdao School gave me a clear understanding of my own reality.
As a Child Development and Family Studies major, I am passionate working with young children and their families. Growing up as the oldest in my family of eight it inspire me to work with young children as my profession. One of my lifetime dream is to someday teach English abroad in a different country for underprivileged children. I want to make a difference in a child's life and give them a piece of hope. This spark of interest led me to focus on the topic of Education and Youth in Thailand. In order to narrow down this topic, I will be focusing on the recruitment at Suksasongkroh Chiangdao School.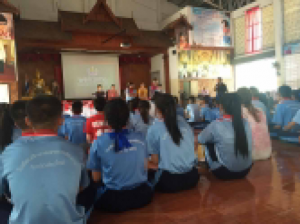 Before the visit to Suksasongkroh Chiangdao School I was excited to see the students and learn more about the School itself. I went into the school with an open mind and curiosity during my time there. The discussion with the Director and Teacher's from the School definitely spark my interest with the recruitment for students at the School. During the video I was amazed to learn that the School is a not only a School, but also a Boarding School. It made me realize how different the Thai school system versus the American school system. I kept this question in the back of my mind while observing the students and staffs.
During the discussion I asked, "How does the School recruit students to come here?" My question wasn't necessarily answered until a later time. Since this was one of the main topics that the School wanted to addressed. From my understanding the School goes into the Hill Tribe Villages to recruit students. However, not everyone will get in because each student must meet ten criteria in order to attend the School. In addition, the families of the children must know the importance of an Education for a better life. Sometimes there are challenges for the school to recruit the students, because it's not easy to convince the parent's to let their kids come to school. I think that some families want their children to be at home, so that they can help around the house. While some families want their children to go and learn at school, so that they can have a better life.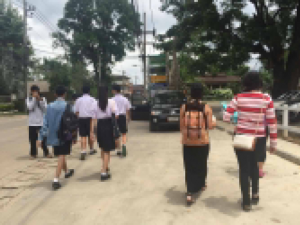 After the visit to Suksasongkroh Chiangdao School, I now have a better understanding of how the School recruit the students. I can only imagine the sacrifices that each student and teachers have to make. While I can relate somewhat with the students at the Chiang Dao school about being far away from home. I also found it interesting how Schools in Thailand go out to recruit the students from their Villages. This definitely opened my eyes about how the recruitment process is in the United States compared to Thailand.
Education in Thailand from a Youth Studies Lens
Choua Lee
As a youth studies major, I was first taught to look beyond what is in front of me. For example, if a student comes to school and lays their head down every day on the desk, most people would assume that they are lazy or do not care about their education. What others do not think about are the possible factors outside of school that may impact their performance in school. Throughout my time in Thailand, I have encountered many youth that helped reinforced the idea that an environment plays a huge role in how they live their life. I have noticed that if a child is not in school, they are finding ways to earn money, helping at home, or doing other activities.
During the visit to Suksasongkroh Chiangdao School was my first time having an understanding of how Thailand's school system works. I loved the idea of teaching students different ways to survive in their environment. They are realistic skills that many students in America do not have but wished were taught in the school system. This school showed me what I believe youth should be doing regardless of where they are.

While exploring the night market, I spotted a female student wearing her school uniform with the sign "Money for college" next to her as she sings and plays the guitar. She was young, so she got more attention than the adult performers. In addition, there were dolled up ladies and young men who would dance beautifully on the big stage with a tip box in front of the stage. They did not get much tips, but they attracted many audiences. It made me wonder how often they practiced and if they get as much out of it as they put into it.
The day after visiting Suksasongkroh Chiangdao School, we spent half of our day at the Hmong Village, Pha Nok Kok. Here I encountered four young boys playing around in the sand as they teach us foreigners how to play a popular Hmong game (unsure of the name) they play during the Hmong New Years. After reflecting closely about youth and education, I realized that they were not in school when they should have, unless they ended early. I then remembered the head of the village discussing about how education is not something they have easy access to due to their location. If they were to go to school, they would have to go to the cities. This made me think back about Suksasongkroh Chiangdao School and how the students are sort of closed from the outside world to avoid distractions. The way their school function made me felt as if it was college. The only difference is the students in Thailand starts learning about independence at a much younger age than the students in America.
For our free day, we decided to go to the temples. There we spotted these adorable Hmong girls dressed up in Hmong clothes. I thought to myself, "Why would Hmong girls dress up in Hmong clothes at a temple?" I then noticed that their mother hid in the background and avoid eye contact once we told the little girls we were Hmong. After taking a photo with them and noticing how much attention they got from others, I realized that they were dressed up in order to attract foreigners as a way to make money. This idea made me felt super uncomfortable. Why would someone allow their child to do something like this in broad daylight? I could not wrap my mind around this, so I walked away.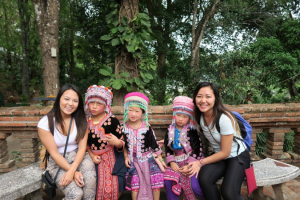 I found it fascinating how youth in Thailand are willing to go out of their ways in order to earn a bit of cash whether it is having late performance, leaving their family to get a better education, or doing what their family wants of them. Although I do not agree with all the methods being used, they all have good intentions and are trying to do what they are capable of. This experience have taught me to not be so quick to judge, especially the way people live in an environment, and made me realize that we all have similar issues but different ways on working towards understanding one another.
In conclusion these are the main take-aways that we as a group have observed throughout this trip in Thailand:
-Privilege
-Sacrifice
-Inefficient transportation for students
-Limited access to schools and ways to make a living
-Different skill base learning compared to the U.S.
-In order for the children to attend the school they must meet 10 criteria/recruitment process
-Challenging to recruit the students and persuade their families
-Education = The le-way for students and their futures.