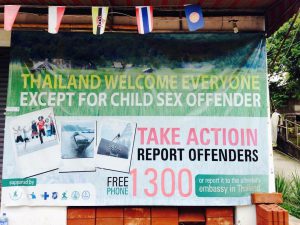 (Mai) I had always known that Human trafficking existed, but it had never occurred to me that it was happening in the places that I hung out and spent free time. Learning about human trafficking in Thailand has opened my eyes to this issue more than I would have ever imagined. If I didn't see those children begging for money on the streets instead of being in school, I would not have believed that it was such a prevalent topic. Seeing those children made it very personal to me because Laos was the country that my parents fled from in order to escape war and poverty. That kid could have been me. I have learned so much from being here in Thailand, and I hope to be able to apply it to my experiences back in the United States.
In this section I will talk about the types of ways that most people become victims of human trafficking. In particular I will discuss what types of people are more susceptible to becoming victims and how they are entered into the world of human trafficking. According to humantrafficking.org, stateless people, ethnic minorities, and migrants are at the most risk for human trafficking in Thailand. This is because they may lack legal identification, are easily exploited because of poverty, and lack access to education. Most people are lured into human trafficking through promises of education, work, or better life (I.e. Marriage to a wealthy person). Some people may also be kidnapped, such as children and young women on their way to and from school or work.
In some cases, victims may be given drugs and then become dependent on them, and that is how they are controlled by the traffickers. In other cases, they may be threatened that if they try to leave, the human traffickers will find their families and do bad things to their families. It can be especially hard to return to your family after being sexually trafficked, because in some cultures, sex before marriage can be seen as a shameful thing, thus their reputation is ruined. It is sad to think that when brothels are raided by police, the girls go to jail for selling sex, when they have most likely been kidnapped and forced to work there. While doing research on human trafficking, I found that it is almost impossible to escape from human trafficking unless you are saved.
(Chelsea) My interest in human trafficking sparked when I heard Eve telling her story about her personal experience. I wanted to know more about it and how it happens, so I researched the topic and learned about how young girls in outlying, rural areas are more susceptible to being trafficked. These girls and their families are usually approached by people from the city and offered a lot of money in exchange for the girl to "work in the city." Often times the girl and her family don't know what kind of work she will be doing until after the deal is made and she arrives to the city.
I was curious to know what is being done to stop human trafficking in Thailand and if there are any organizations aimed at helping at risk girls. The Not For Sale campaign focuses on poor, minority groups living on the Thai-Burmese border who are often considered stateless. This campaign provides many services for children rescued from exploitation. In 2007, they constructed a children home which offers shelter for rescued youth. They also help the children legally obtain formal identification documents which can help them get more employment opportunities. They also provide education to the children and enroll all children at the home in primary, secondary, or university education.
(Halle) About five years ago I watched a documentary that told the stories of human trafficking survivors. I was introduced for the first time to this horrific immense global issue. My worldview was impacted forever as I was educated on this severe violation of human rights. Today, human trafficking is a $99 billion industry that has claimed 32 million known victims. It is a growing underground industry that takes place in plain sight while those in the midst of it remain oblivious.
Nomi Network is one of the many organizations that does profound work in helping victims of human trafficking. Nomi Network helps survivors of trafficking by creating economic opportunities for them by working with them to improve leadership and entrepreneurship skills to become independent. Nomi works primarily in India and Cambodia with victims of sex trafficking as well as those at risk.
In this blog, Mai focused on the types of people at risk of human trafficking, while Halle and Chelsea focused on organizations aimed at helping and preventing human trafficking from occurring. We were all intrigued through our experiences in Thailand and can also tie it back to our own personal experiences. Through this trip and the things we have learned about human trafficking, we are now more alert and aware of our surroundings. We hope that Eve's seven tips will come in handy back at home and in our future travels.