Sawatdee, Ka! This first week has been a rollercoster of activities. We started out with the longest plane ride I've ever been on. Once in Bangkok we went to a Child Safe Workshop. In the morning we woke up and had an unusual breakfast. The food was regular breakfast, but on top of it there was curry, rice, bread, sushi and more. Once breakfast was over it was back on the plane to Chaing Mai.
In Chaing Mai we went to a Khan Toke Dinner. This was a traditional Thai dinner to welcome us to Thailand. We sat on the floor and leaned back as we ate authentic cuisine and watched traditional dance preformances.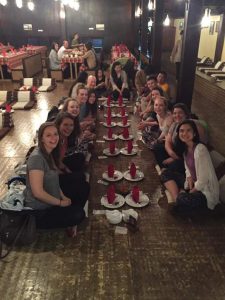 The next day we went to a local market, it was a little like a farmers market. This was so different than what we see in the U.S. Usually we see veggies and fruits ,  as well as some canned goods. However, one thing we don't see — entire animals on slabs of ice. There were also fresh fish that they butchered right in front of you. We were going to a cooking class and needed some coconut cream. The cook ordered us 5 lbs of the cream. We got to sit and watch as the man made the cream. The coconut was carved and then shredded, finally moved to the juicer. It  was really awesome to see "how it was made" right there at the market.
The food we made at the cooking school was Tomyum Soup,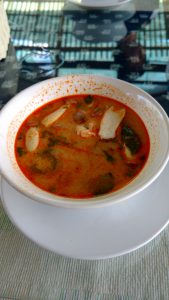 Padthai,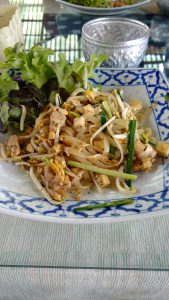 Phanaeng Curry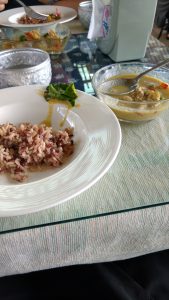 and Mangos with Sticky rice.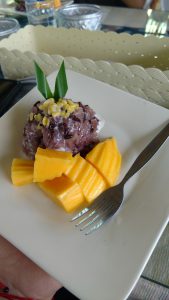 Every recipe was different. The food had more flavor and spiciness than I am used to. It was also interesting because there was a good amount of things that went into the soup that were uneatable. This is something not typically found in most American houses.
The food by far has been a favorite. I can't wait to see how breafast changes everyday.  It's going to have to beat the Thai donuts with dipping sauce that has been apart of our meal for 4 days. Tomorrow we headout of Chaing Mai and into our village. Can't wait!