Hello everyone!  It is currently our 3rd day in country and our second day in Chiang Mai.  Today is the day where most of the remaining jet lag has worn off and everyone is excited for all of the activities planned for the trip.
Today we spent the majority of the day learning more about typical Thai cuisine. We started out by visiting a market where we learned about and watched the process of making coconut milk, learned about the Thai market culture and were able to explore the wide variety of fresh foods that were available.   We also learned that unlike in America, Thai people usually go to the market every couple days instead of once a week.  This ensures that they have fresh foods at all times. Due to the generosity of others on the group, everyone was able to, if they wanted, try both Rambutan and Durian.
After our visit to the market, we went to a program which was ran by a husband and wife out of their home called Cooking@Home. Here we were able to watch traditional Thai dishes being made and then attempt to recreate them ourselves. Before the class even began, we were all able to enjoy the calming Thai landscape and even got to see a few water buffalo.
Once the actual class began, everyone was able to feel like an accomplished chef.  The instructors were very helpful with both demonstrating and helping during our cooking process.  We were able to taste the instructors dish before making ours so we could adjust our personal dish to our liking.  Out of all of the dishes, my personal favorite was the papaya salad that we made.  It was savory, sweet, spicy and very refreshing in the heat.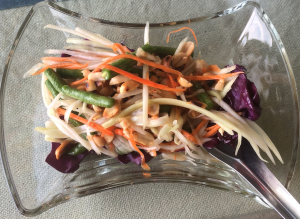 From what we saw at the Market and the cooking class, I realized that the Thai food scene is much different from the US.  Not only in the type of cooking, but how they handle everything.  The Thai people seem to focus much more on the freshness of their food and not letting anything go to waste.  I really appreciated this outlook on food.