Our Experience with Indigenous Peoples in Thailand
Sawatdee Ka!  We would like to start by giving you a quick introduction to our group!  My name is Brenda. My gender pronouns are she/her/hers and I identify as Hmong-American. My name is Gao Zer Nancy Xiong. I am majoring in Family Social Science and use the pronouns she/her/hers. Hi, my name is Genevieve Locke, and I am studying strategic communication with an emphasis in advertising. My name is Lydia and I am an upcoming senior double-majoring in Psychology and Family Social Science.  We will never forget the people here, especially those we visited in hill tribe villages as they shared their lives and culture with us.
Throughout our time in Thailand, our studies have been heavily focused on ethnic minority groups, and hill tribes.  While here we have gotten the opportunity to visit both a Hmong and Karen village, visit a Hmong student group at Chiang Rai Rajabhat University, visit the Chang Dao primary school, and engage in discussion with the Hill Area Development Foundation, who focus on social justice initiatives for vulnerable hill tribes.  Of all these experiences, the main themes that emerged were that of pressures to assimilate to Thai culture, the generational divide between the younger generation and elders, the role of community-based tourism, and the implications of stateless.
Because many of our experiences are based on interactions with students from these communities, we have seen how they balance Thai culture with their native traditions and the challenges this can create.  One of the biggest challenges is the pressure to assimilate into Thai culture.  This stems from ethnic students attending schools in which the majority of the studen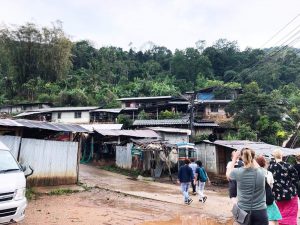 ts are Thai.  Because of this, language barriers then become apparent as schools are taught in Thai therefore students from hill tribes must learn to speak Thai, but have no designated space to continue practicing their native language.  This combination can lead to students merging languages
as was common when speaking with the students in the Hmong student group at Chiang Rai Rajabhat University.  Another outcome of pressured assimilation to the Thai language, is loss of native language skills.  Speaking to the chief of Pha Nok Kok Hmong Village many Hmong students that leave the village to go to school in the city loose language skills.  Language is the main way we saw pressure to assimilate, but there are many other pressures as society continues to change and Thailand experiences the impacts of globalization.
For this reason, there is an increasing effort by schools to offer programs that help ethnic minority students preserve their traditional culture.  At Chiang Rai Rajabhat University we met with the Hmong student group which is one way that students at a Thai university can connect back to their ethnic heritage.  In the club, students participate in traditional Hmong activities such as pov pob (ball tossing), ncuav (pounding rice patties), outreach to other hill tribes, and educating outside groups, such as us, about Hmong culture and traditions.  Additionally, these Hmong students wear their traditional clothing for special occasions, which we got to see first-hand when visiting.  When visiting the Chang Dao School, a school that primarily serves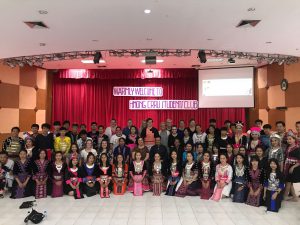 low-income students from hill tribes, students were also wearing traditional clothing.  Because of the large population of hill tribe students, the school encourages students to wear their traditional ethnic clothing on Fridays as a way preserve culture and create a sense of solidarity between students of the same communities.
We also visited the Hill Area Development Foundation (HADF) and learned about their initiatives to help schools preserve student's identities as members of hill tribes when attending Thai schools.  One of these such programs, centers on the traditional food from the hill tribes.  The organization polled hill tribe students in the area about their favorite ethnic foods and used those findings to organize a cookbook to distribute to local teachers.  This cookbook's purpose is to make these students more comfortable integrating into the Thai school system, to make sure ethnic minority students can preserve connections to their culture, and to combat the integration of unhealthy food into these student's diets.
Along with the HADF, there are preservation efforts being made within the hill tribe communities as well.  One of the ways in which they engage in this preservation is through community-based tourism.  Community-based tourism provides hill tribe communities with the opportunity to share their culture with outside communities in a structured way as well as create financial opportunities so less young people need to move away for jobs.  While visiting the Karen village, we learned about their community-based tourism program that allows a few tourists to come to the village at a time, stay in the village, and learn about their weaving and agricultures processes.  This structure helps to combat the threat of tourists taking over the area or culture through processes such as gentrification.  The products made from weaving can then be sold to help create one source of income for the community.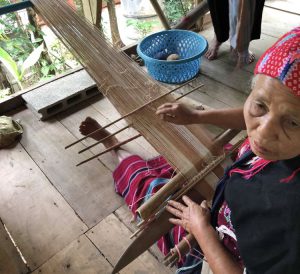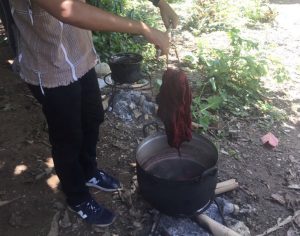 While each of our experiences has taught us about the challenges hill tribes face and the efforts to combat those challenges, these are not representative of all experiences of hill tribe members.  Throughout learning about these communities and their culture one of the biggest themes we noticed and want to acknowledge is the resilience and resourcefulness of ethnic minority populations.  The ways in which these communities balance both Thai culture and their indigenous culture is admirable especially when students face such a large pressure to assimilate.  We are grateful to the communities that welcomed us and allowed us to become more culturally aware while learning about their language, traditions, and communities.