Antony Maikuri, Instructional Technology Fellow – ICD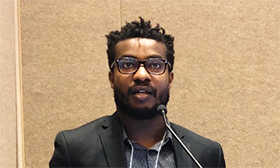 What did you want to do or be when you were eight years old?
As any African kid I wanted to be a pilot, a doctor, or a lawyer
Outside of your work, what are you passionate about?
Engaging in conversations, playing sports, and watching documentaries
What's your favorite quote?
Smooth seas do not make skillful sailors
What music are you listening to?
Afrobeat music and Bongo music
Bio
Antony Maikuri is a Ph.D. Evaluation Studies candidate in the Department of Organizational Leadership, Policy, and Development at the University of Minnesota. His research focus combines indigenizing evaluation in Africa, capacity building, and African evaluation education.
He earned his Master's degree in Development Practice with a minor in Program Evaluation from the University of Minnesota Humphrey School of Public Affairs. Antony also obtained a certificate in Nonprofit Management from the University of Minnesota and a Bachelor of Science degree in Finance from Kenya Methodist University in Nairobi.
Antony has extensive and diverse international development experience, international education, monitoring and evaluation, program evaluation, quantitative and qualitative research, and capacity building. He has worked on projects with the county government in Kenya to the State Department of Minnesota. He has also contributed to multiple projects with non-governmental organizations committed to humanitarian development, such as the World Athletes Refugee Team in East Africa and economic policy efforts specifically in Sub-Saharan Africa. Antony continues to dedicate himself to elevating African voices and enhancing evaluation knowledge among Africans through past experiences and present work.