The Check – Guide to Online Course Design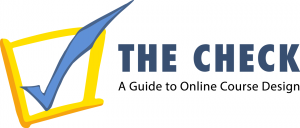 The Check is a guide to help instructors create instructionally effective and user-friendly course sites for students (online, hybrid, or face-to-face courses).
The Check can be used at any point in the course development process—when designing a new course or to evaluate an existing course.
The Check is designed to be accessible to anyone developing a course. To get started, read through The Check to get a sense of the different areas to consider.
When designing a new course, use The Check as a starting point to make sure each area is addressed.
When evaluating an existing course, use The Check as a checklist to identify any areas that need improvement.
The process can be greatly enhanced when guided by one of our instructional designers. If you would like help creating or reviewing a course, please complete a brief online application form.