Jimin Park, Instructional Technology Fellow – FSoS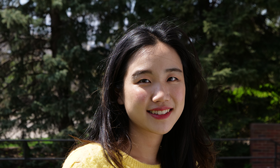 What are your top three passions?
Food, yoga, and travel
What's your favorite poem?
The Road Not Taken by Robert Frost
If you could have one superpower what would it be? Why?
To be able to stretch my arm to grab something I want (this won't really save people's life like heroes, but my life will be much more convenient).
Bio
Jimin Park is a second year graduate student (2018-19) at the University of Minnesota. She studies human cognition focused on education. Her current area of research is in mathematical cognition. She especially focuses on how people's understanding of fractions may vary based on language-differences.