Treden Wagoner, Instructional Designer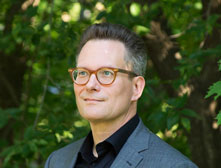 What did you want to do or be when you were eight years old?
David Bowie
What do you love most about the work that you do?
Working with instructors to improve the student experience
What are your top three passions?
Teaching and learning, visual arts, and music
If you weren't doing what you do today, what other job would you have?
A commercial artist/illustrator
If you could spend a week anywhere in the world, where would it be?
Somewhere by the water (big lake or ocean) with Aneka
What's the most unusual thing in your desk drawer or office?
Unusual thing in my office: my Hellboy action figure collection
What are 3 things we probably don't know about you?
When I was in the second grade I was a ball boy for a professional soccer team
I spent the summer of 1989  in Pietrasanta, Italy working as a sculptor's assistant
One of my portrait paintings was exhibited as part of the Minnesota State Fair Art Competition (I didn't win a ribbon but it was an honor to be included)
Bio
Treden Wagoner, Instructional Designer, has a M.A. in Education and was a state-licensed K-12 visual art educator. As an instructional designer, Treden works with CEHD instructors to develop effective course sites and the integration of technology for teaching and learning. Treden also works on strategic initiatives and faculty professional development  related to teaching and learning with technology (e.g., Treks).  He has over 20 years teaching experience and has specialized in education technology since 2002. Treden has received the following honors for his work at the University: the Office of Information Technology's Outstanding Service Award for his work on the Digital Course Pack Initiative (May 2013) and the Global Programs and Strategy Alliance's C. Eugene Allen Award for Innovative International Initiatives (May 8, 2015) along with the other members of the team who worked on the Collaborative Online International Learning (COIL) pilot.