Xiong Xy – Multimedia Academic Technologist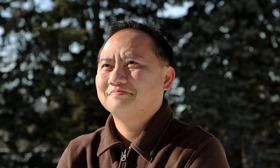 If you weren't doing what you do today, what other job would you have?
Stay-at-home parent
If you could spend a week anywhere in the world, where would it be?
Camping at a national park with my entire Fam Camp group
What is you favorite food/beverage?
Grilled pork belly
What music are you listening to? or What book are you reading? or What was the last movie you saw? or What TV show are you binge-watching now?
Audiobook listener. Currently, I'm on A Thousand Splendid Suns by Khaled Hosseini.
Bio
Xiong Xy is the first in his family to graduate with a college degree. An alumni of the University of Minnesota, Xiong has been working as an academic technologist at the U for over 10 years. His professional experience has involved producing student perspective videos and supporting students and instructors in online courses. Xiong also has experience in client side web development. As the Multimedia Academic Technologist at DEI, Xiong provides support to faculty and staff on multimedia use in their courses and oversees video requests from faculty and staff. In his free time, you can find him cooking in the kitchen, working on a DIY home improvement project, or figuring out parenthood.